Raves
Read all of our wedding reviews on our
Kevin Trowbridge Photography
Storefront at
Testimonials sent to me directly from happy couple's:
When I set out to find a photographer I had a list of what I wanted:
My photos had to be original and non-traditional
My wedding party had to feel comfortable and at ease while photos were being taken
The photographer needed to know how to spot and take great photo opportunities while blending into the crowd
They needed to know how to work with my venue and as we found out on the wedding day, changes in weather and lighting.
Most importantly they had to tailor the pictures to 'us' as a couple, make them look like they suited who we were.
Kevin did all this and more! We lived in Calgary and were getting married in Kelowna with no time to travel to Kelowna to meeting him before the wedding. This was a big concern of mine at first as I thought – 'how could he get a feeling for what I want via email correspondence?' but he did. Kevin asked all the right questions and spent time learning about who we were as a couple. When we met for the first time during the rehearsal my mind was at ease, he walked me through the key times during the ceremony that he would be taking pictures and showed me his vision for capturing it.
We got married in the Pyramid at Summerhill which was all candle light so you could imagine it was quite dark but Kevin uses top of the line cameras and lenses and was able to produce beautiful pictures which would have been a challenge for some photographers.
The whole time he allowed us to give him input about what we wanted or images we wanted captured, I had a special request to have some photos taken with my father before the ceremony with him putting on a pair of opal earrings he made for me when I was a little girl. I told Kevin my vision for the photos and they came out beautifully.
All night my guests made comments about how great Kevin was and how they couldn't wait to see the photos he took.
I couldn't have asked for a better experience or final product than what I got. My family and friends described my photos as "spectacular, breath taking, unique, creative, magical, photos you would find in a bridal magazine, and hands down the BEST wedding photos they has ever seen."
Thank you so much Kevin for these beautiful photos, I am so lucky we were able to have you as our photographer and I would recommend you to anyone that is looking for a truly unique individualized wedding album.  You are truly talented!
Sarah Cicciarella

October 22, 2011 wedding at Summerhill Pyramid Winery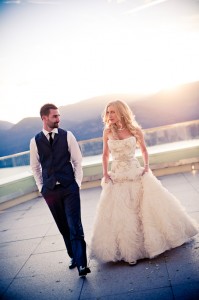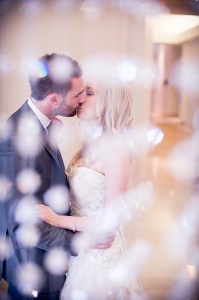 From the moment Kevin walked us through his studio we knew we wanted him to photograph our wedding.  It was easy to see his gift for capturing beautiful images but what we didn't expect was how wonderful the experience of shooting would be. Kevin has a way of directing without intruding on the moment. It truly was a romantic experience, filled with personal connection and intimacy.  Upon seeing the finished product, we were practically speechless. The photos were more amazing than we ever thought possible. He, along with his wife Katherine, captured our day perfectly and we will cherish their work for as long as we live.
Sarah & Jamie

July 23, 2011 wedding at Sparkling Hill Resort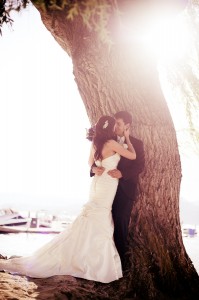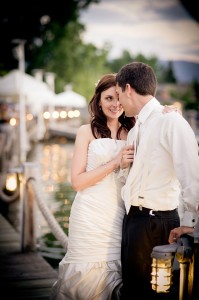 From our first meeting during our engagement photo session until our wedding a few months later we have been more than impressed with both the quality and artistic expression of Kevin Trowbridge's photos and his passion for his work. His laid-back, friendly demeanor leaves you feeling relaxed throughout the photography session and he's always ready to offer a suggestion for a pose if needed. We had the opportunity to meet his wife Katherine as well, who is also a talented photographer, and they work as a great team to capture the best photos from all angles. Kevin Trowbridge photography more than exceeded our expectations and we are thrilled with our pictures. We will definitely consider him for future photography sessions and would highly   recommend him to anyone looking for a masterful photographer to capture their special occasion.
 Thank you Kevin!
Joanne & Chris

July 2, 2011 wedding at Cedar Creek Winery & Hotel Eldorado

Kevin, we received our photo canvas. IT IS AMAZING!!!!! Thank you so much for spicing up the color for us! It is such a great addition in our living room. We will cherish this picture forever!!!!
Jami & David

August 8, 2009 wedding at Summerhill Pyramid Winery
Wow! – This word doesn't even begin to sum up our experience with Kevin Trowbridge photography. Kevin was amazing, professional, and went well beyond our expectations right from the initial meeting and throughout our wedding process. Kevin was available for consultations through email, phone, and in person whenever we needed to meet. His creative and artistic eye was perfect for what we wanted in wedding photography, but he was also willing to listen and provide feedback on our specific wedding details and photography concerns. The whole experience was enjoyable and we are thrilled with our results. My husband and I would highly recommend Kevin Trowbridge photography to anyone looking to capture an important event in a completely unique, unforgettable and priceless way.
Colleen Johnston
Excellent service! Kevin was amazing at working with us to help make our wedding day photos look great. He took our input and added his amazing artistic style. His touch ups are fantastic and shots actually made me look photogenic (I'm NOT!)….Thanks for all you little extras Kevin. I'll recommend you to ANYONE that's looking.
Joel Kryczka
August 2, 2009 wedding at Silverstar Resort, Vernon